Manchester Car Accident Injures 5 People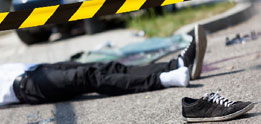 On September 1, 2011 two people were critically injured, with three other still in serious condition after a two-vehicle crash on Route 70 in Manchester, New Jersey. The driver of one of the vehicles, Charles E. Flickinger, of Birdsboro, Pennsylvania was driving on Route 70 West near Washington Avenue at dusk when his vehicle veered into oncoming traffic and collided with a pick-up truck traveling east. Flickinger had four passengers in the car at the time of the crash; Linda Warbington (his fiance), Warbington's two children, a 4-year-old boy and an 18-month old girl, and Rita Keller, of Manchester.
Flickinger and Keller were taken by helicopter to Jersey Shore University Hospital in Neptune where Flickinger is in critical condition with internal injuries and broken bones and Keller is in serious condition. The 4-year-old boy, who was in a car seat at the time of the crash was taken to Jersey Shore University Hospital and remains in criticial condition. Warbington and her 18-month-old daughter have been taken to Jersey Shore University Hospital where they are both in serious condition. The driver of the pick-up truck that was struck, Joseph Lacarrubba, was taken to Kimball Medical Center for minor injuries.
The accident is still under investigation by the Manchester Township police department and it is still unknown why Flickinger veered into oncoming traffic. No charges have been filed at this time.
If you or a loved one has been injured in a car accident, it is important that you speak with an experienced accident attorney. Contact a New Jersey Car Accident Lawyer today for a free consultation.
Categorys: Personal Injury,
[LoginRadius_Share type="horizontal"]